Story Crafting 101: Constructing Engaging Behavioral Interview Stories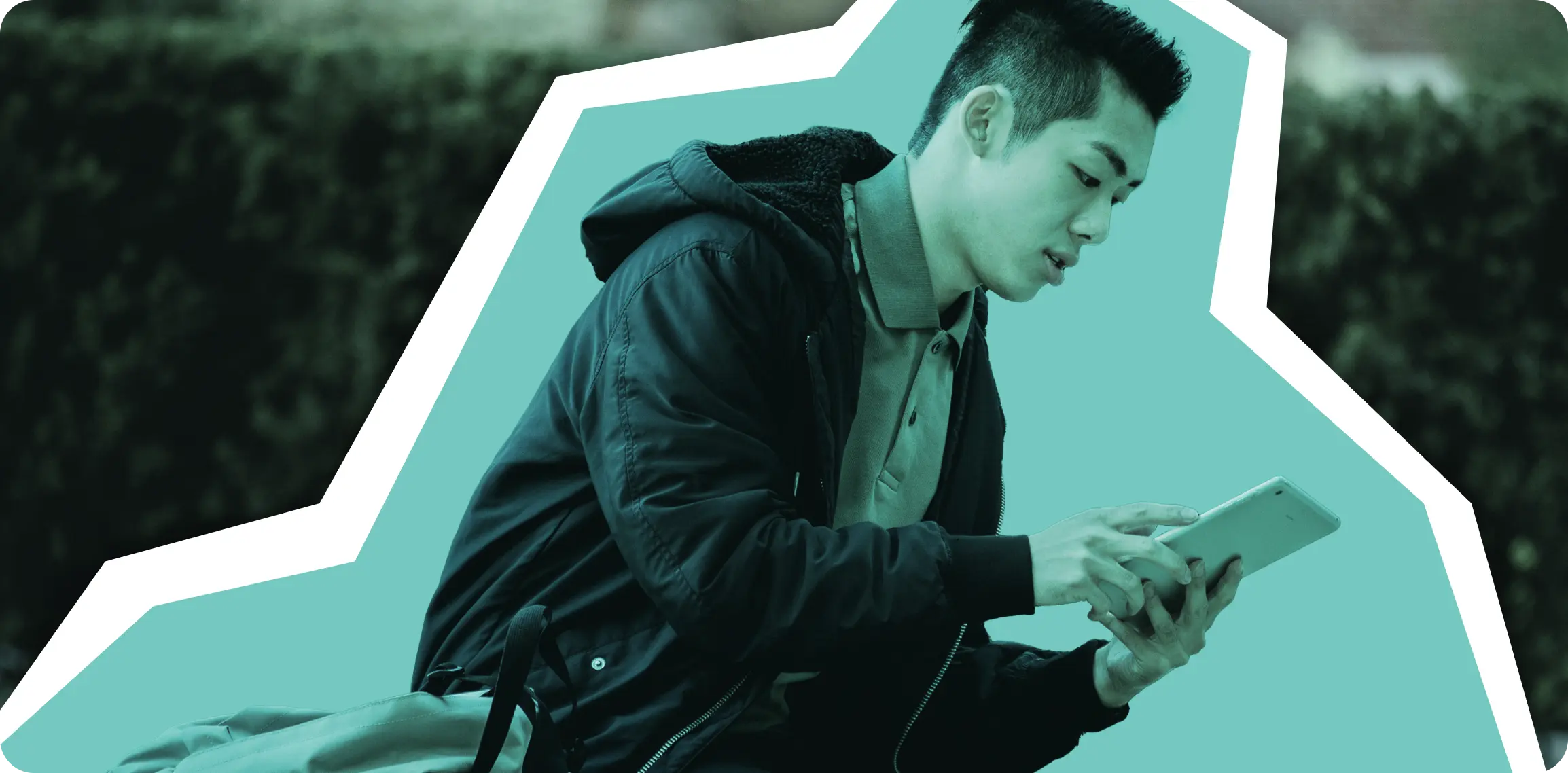 During my time at Meta, I conducted hundreds of interviews. One observation remains consistent: technical skills get your foot in the door, but your ability to narrate your experiences effectively is absolutely critical to landing a senior rol. So, how do you craft a compelling story that resonates with the FAANG crowd?

The Importance of Storytelling in FAANG Interviews
At tech giants like FAANG, storytelling isn't merely an added bonus; it's the conveyor belt that efficiently transports insights about your character, showcases your problem-solving prowess, underlines your cultural fit, and ensures your experiences are in sync with the job level you're vying for. Given that you frequently have a tight window of just 35 minutes, it's essential to maximize information delivery, optimizing every word, as each one carries weight.
Starting with Structure
There's no need to re-invent the wheel. STAR is a tried-and-true framework that methodically guides you in breaking your stories down into digestible, impactful segments. Here's a brief overview:
Situation: Set the stage by providing context. This could be a specific challenge or circumstance you found yourself in. Remember, the goal isn't to dive deep into minutiae but to give a clear snapshot.

Task: What was your specific role or responsibility in this situation? Were you leading a team, solving a particularly thorny technical challenge, or perhaps navigating a complex client relationship?

Action: This is the heart of your story. Detail the steps you took to address the task at hand. Be specific but concise, highlighting moments where you demonstrated key competencies, technical prowess, or leadership.

Result: Close with the outcome. What was the tangible impact of your actions? Did you drive a particular metric, change a process for the better, or perhaps lead a team to an unexpected success? Quantifiable results, wherever possible, will add weight to your story.
Moving onto Substance
While the structure of your story provides its backbone, the substance is its heart and soul. It's through the richness of your narrative's content that you reveal not just your professional expertise, but the essence of who you are. The substance of your story speaks volumes about your character, your aptitude for problem-solving, and your ability to integrate seamlessly into a company's culture. Moreover, it's the depth and relevance of your experiences that signal to hiring managers the level of technical roles you're best suited for.
Revealing Character
Every story you narrate is a window into your character. Whether you're discussing a challenging project or a team conflict, your reaction and resolution offer a glimpse into your personality, ethics, and resilience. But to truly make an impression, it's vital to be practical in your approach. Here's how:
Show, Don't Just Tell: This should be obvious, but it's worth emphasizing nonetheless. It's one thing to say you're adaptable, but it's nothing if you don't share a compelling example. For instance, recount a time when you had to pivot in the middle of a project due to unforeseen challenges, illustrating how you navigated the situation and the decisions you made.

Avoid Generic Examples: Steer clear of overly common scenarios like "I once worked overtime to meet a deadline." Instead, offer unique insights. Perhaps there was a time when you had to mediate between two team members with clashing perspectives, leading them to a compromise that benefited the project.

Reflect on Your Choices: Rather than just narrating events, discuss your thought process. Were you torn between two courses of action? What considerations came into play? This gives depth to your character reveal.

Highlight Ethical Dilemmas: Did you ever face a situation where the easy route and the right route weren't the same? Sharing such experiences not only showcases your ethical standpoint but also your moral compass in challenging situations.
Highlighting Cultural Fit
FAANG companies pride themselves on their unique and defined corporate cultures. Demonstrating alignment with these cultures in your stories can significantly bolster your candidacy. Here's how to navigate this:
Research Is Key: Before diving into your stories, ensure you're well-versed with the core values of the company you're interviewing with. This knowledge allows you to tailor your narratives to resonate more deeply.

Showcase Relevant Initiatives: If you initiated a hackathon at a previous job, it's not just about the event; it's about showcasing your drive for innovation, collaboration, and problem-solving. Such a story aligns well with companies like Google or Facebook (Meta) that value creativity and innovation.

Highlight Collaboration and Teamwork: FAANG companies often operate in cross-functional teams. Narrate instances where you've successfully collaborated across departments or brought diverse teams together to achieve a common goal.

Discuss Adaptability and Growth: These tech giants are ever-evolving. Sharing stories where you've adapted to change or spearheaded new initiatives in response to industry shifts can signal your alignment with their dynamic nature.

Emphasize Customer-Centric Stories: Companies like Amazon are known for their customer obsession. If you've gone above and beyond to ensure customer satisfaction or have made decisions based on customer feedback, these stories can resonate strongly.
Ensuring Level Appropriateness
At FAANG companies, the delineation between levels is clear, and each comes with its distinct set of expectations. Crafting your stories to reflect the competencies expected at the specific level you're targeting is crucial.
Understand the Requirements: Before presenting your experiences, ensure you have a comprehensive grasp of the role's responsibilities and expectations. Whether it's technical mastery for a junior role or strategic vision for a senior position, align your stories to these specific requirements.

Demonstrate Scope: Reflect on the magnitude and complexity of your past experiences. For junior roles, discuss detailed technical tasks or team collaborations. For senior roles, emphasize leadership in large-scale projects, strategic decisions, or organizational impact.

Quantify Achievements: Numbers speak volumes. Regardless of the level, highlight the tangible outcomes of your endeavors. For higher roles, showcase how your initiatives led to significant metrics improvements, be it in user engagement, revenue growth, or process efficiency.
NOTE
I can't tell you the number of candidates I have downgraded as a result of their behavioral interviews. Too often, candidates answer a question literally, providing the first example that comes to mind. For instance, if you're a staff candidate, I don't want to hear about a conflict you had with a junior engineer—even if it is the most recent conflict you can recall. I would like to hear about cross-team or cross-organizational disagreements or instances where you had to persuade a director/VP about a direction you were passionate about.
Brevity and Precision
In the high-pressure setting of a FAANG interview, the efficiency of your communication is paramount. You're not only presenting your experiences but doing so within a constrained timeframe. Here's how you can master the art of brevity while ensuring your message retains its potency:
Use Active Voice: Active voice promotes clarity and reduces wordiness. For instance, "I led the team" is more concise and direct than "The team was led by me."

Use "I" Not "We" Where You Can: While teamwork is essential, interviewers are keen on understanding your specific contributions to a project or task. Using "I" pinpoints your actions and decisions, offering a clearer picture of your individual capabilities and impact.

Avoid Over-explaining: Trust in the interviewer's ability to grasp concepts. If they need more information, they'll ask. Don't waste precious minutes over-elaborating points.

Embrace Pauses: Don't mistake brevity for hurriedness. Take a moment to collect your thoughts before responding. This ensures your answers are more deliberate and concise.
Fine-Tuning Through Practice
With a solid framework in place, perfecting your responses is about diligent practice. When posed with an interview question, your goal should be to swiftly sift through your prepared stories and pick the most fitting one, rather than scrambling for fresh examples on the spot. To best prepare, I recommend the following steps: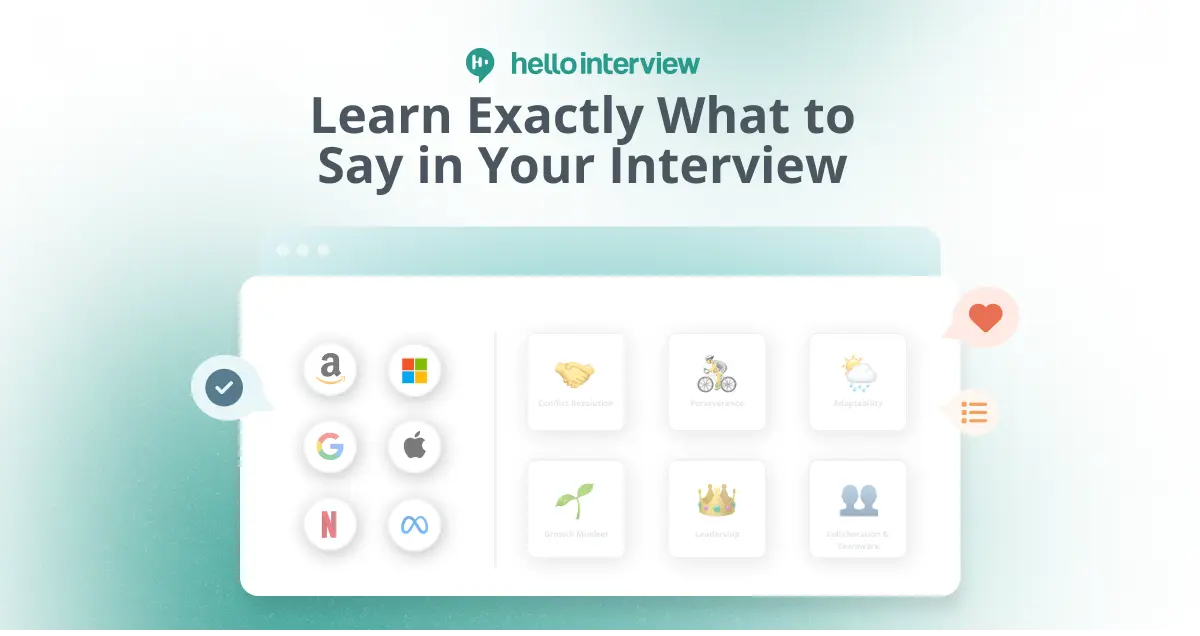 Draft Stories for Key Competencies: Dedicate some uninterrupted time to draft 1-2 stories for each of the primary 6 competencies: conflict resolution, perseverance, adaptability, leadership, teamwork, communication, and growth mindset. While individual FAANG companies have specific competencies, they broadly fall within these categories. Prefer a digital approach? Try Story Builder, an AI-powered tool that poses tailored questions and crafts compelling stories, aligning with the guidelines mentioned earlier. Explore it for free here.

Seek Free AI Feedback: Input your stories into Chat GPT or utilize Hello Interview's free AI Behavioral mock interviews. This AI, shaped by both me and my FAANG hiring manager co-founder, offers instant, personalized feedback aligned with the values above.

Engage in Mock Interviews: Undertake a mock interview with an individual who has interview experience at your target company. It's the optimal way to identify any gaps in your preparation. If you are well connected and have friends in the industry, practice with them. If not, platforms like Hello Interview enable you to schedule a mock interview with FAANG interviewers, including experts like myself.
Behavioral interviews matter, so spend a day or two to get your ducks in a row. Don't fall into the common trap of doing so much Leetcode that you lose sight of the bigger picture.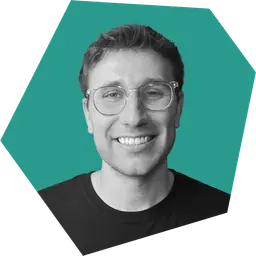 About The Author
Evan, Co-founder of Hello Interview and former Tech Lead at Meta, possesses a unique vantage point, having been on both sides of the tech hiring process. With a track record of conducting hundreds of interviews and securing offers from top tech companies himself, he is now on a mission to help others do the same.
© 2023 Optick Labs Inc. All rights reserved.